DENVER, Colo. (March 21, 2023) – The International Franchise Association (IFA) has named Brandie Chapman, the franchise owner of the Radiant Waxing™ and Drybar® locations in Coeur d'Alene, Idaho, and Tracy Gilligan and Matt Perry, the franchise owners of five Elements Massage® studios in Massachusetts and New Hampshire, as Franchisees of the Year. Chapman, Gilligan and Perry were honored at the 63rd IFA Annual Convention in Las Vegas for being outstanding franchise establishment owner-operators.
The Radiant Waxing, Drybar and Elements Massage brands are part of the WellBiz Brands Inc. portfolio of franchise brands. WellBiz Brands is the pre-eminent beauty and wellness franchise platform, with nearly 900 franchised locations open globally and more than 300 in development. WellBiz Brands' portfolio also includes the  Amazing Lash Studio® and Fitness Together® brands.
–
WellBiz Brands CEO Jeremy Morgan said, "Brandie, Tracy and Matt are examples of the truly amazing franchisees in the WellBiz Brands portfolio who are focused on providing world-class experiences in their communities. We share their excitement as they are recognized on an international stage and look forward to celebrating many more successes with them in years to come."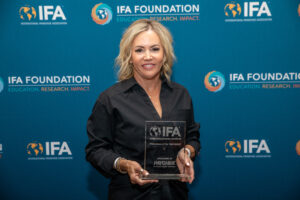 Brandie Chapman's initiation into franchising came at the beginning of the pandemic, when retail stores in Coeur d'Alene were shutting down. Although nervous about the implications of the looming health crisis on business, Chapman and her husband persisted, creating a thriving culture within their location and cheering on other owners along the way. Now, just three years after she began, she's an accomplished multi-unit, multi-brand owner with two Radiant Waxing salons, a Drybar shop and soon, a new Amazing Lash Studio location.
"The experience I have had with franchising has exceeded all of my expectations," Chapman said. "I am so proud that I've been able to show my children that you can pursue your dreams at any age."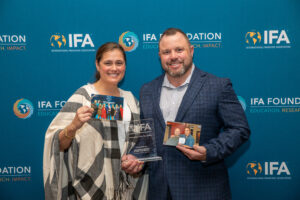 Even while juggling ownership of their Elements Massage studios, Gilligan and Perry always make time to support their studio teams and fellow franchise owners. Perry got his start in franchising early, right out of college. After building five Fitness Together studios, he became an owner in the Elements Massage system with his now-wife, Tracy Gilligan.
The couple are ambitious entrepreneurs who now own Elements Massage studios in Newburyport, Massachusetts, and Nashua, Bedford, Portsmouth and Salem, New Hampshire. They prioritize their roles as mentors, always making time for career development for the people on their teams. The couple also are the driving force behind the committee that plans the annual Power of You Gala, a black-tie celebration for Elements Massage studio employees throughout the Boston and New Hampshire region.
"Service is at the heart of everything we've ever done," Perry said. "To be recognized on this level is truly humbling, and it never would have happened without empowering people on our team to do great things and allowing them to thrive. In this industry, we are nothing without our teams and are so fortunate to benefit from the strong purpose-driven passion that comes inherently with the work that we do."
The Franchisee of the Year Award, sponsored by IFA's partner, Paychex®, recognizes leading franchise owners from IFA member brands whose outstanding performance and contributions help protect, enhance and promote the franchise business model. Nominated by their franchisor company, individuals are selected for their service to their communities, fostering a strong and vibrant workforce, opening the doors for career growth and entrepreneurship and supporting their fellow franchisees.
"Franchisee of the Year recipients represent the best in franchising," said Matthew Haller, president and CEO of the IFA, the world's oldest and largest organization representing franchising worldwide. "This is the highest honor IFA awards to individual franchisees, and these local business owners exemplify the power of franchising and its positive contributions to communities around the world."