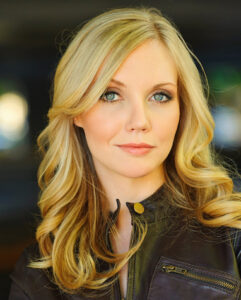 ATLANTA, Ga. (Nov. 1, 2022) – A Los Angeles actress has signed a deal to bring seven Drybar locations to the greater Atlanta area, WellBiz Brands has announced.
The Drybar® brand is part of the WellBiz Brands Inc. portfolio, the pre-eminent beauty and wellness franchise manager, with other brands that include Amazing Lash Studio®, Radiant Waxing™, Elements Massage® and Fitness Together®. WellBiz Brands portfolio franchises have nearly 900 franchise locations globally. Drybar is a hair salon experience that provides exclusively blowouts, which includes a wash, blow dry and hair styling.
Candice Mann is returning to her Southern roots and relocating her family to the Atlanta area, where she will develop seven locations within the busy metro market.
"So often, women take care of the world – families, careers, communities and beyond," Mann said. "Drybar shops take care in offering a convenient, quality and enjoyable service that makes our lives just a little bit easier, while also making us feel great. It's a gift to busy women everywhere."
Mann has spent most of her career in Los Angeles. She has appeared in "Castle," "The Closer" and most recently in the TV mini-series "Pam & Tommy." She also has done voiceover work for Mellow Yellow, Coors Light, Discover Card, Dunkin' and Reliant Energy.
As an active mom of a son and daughter, acting gave her a unique perspective on the beauty and wellness industry.
"As my children get older, I wanted to get out of Los Angeles and be closer to my family," she said. "I already knew and believed in the brand. It was the next best step for me in my career."
Mann first learned of the Drybar brand after her cousin gave her a gift certificate for her birthday. From there, she was hooked, Mann said. "I know many friends who give each other Drybar gift certificates every holiday because it's just so nice to have someone take care of us for a bit, and everyone needs that."
When deciding whether to purchase a franchise, Mann did her due diligence. She researched several other brands and even a boutique hotel, but her love for the Drybar brand ultimately won out over the competition.
"It's a strong, recognizable brand with a great reputation and high level of service," she said. "From the ease of booking and checkout to skilled stylists and convenient locations, to award-winning products, the experience is exceptional. Clean, bright and beautiful spaces, along with complimentary beverages, are inviting, while the feeling of walking out with gorgeous hair that you don't have to wash or style for a few days is irresistible."
Mann is currently scouting locations and expects to have the first location opened by summer 2023.
With a portfolio of beauty and wellness brands, WellBiz Brands offers opportunities to experienced and prospective entrepreneurs that fit their passions and goals. For more information, please visit: WellBizBrands.com.
About WellBiz Brands, Inc.:
WellBiz Brands Inc. is the pre-eminent beauty and wellness franchise platform catering to the needs of the affluent female consumer. The WellBiz Brands' portfolio features category leaders including Drybar®, Amazing Lash Studio®, Radiant Waxing™, Elements Massage® and Fitness Together®. With an expertise in digital marketing, the company developed a cross-brand digital marketing program that drives effective member acquisition strategies, creating a world-class membership ecosystem. WellBiz One, a proprietary technology platform, enhances studio operations for franchise owners driving member engagement and retention. With in-house expertise in supply chain management, e-commerce and product innovation, WellBiz Brands provides its franchisees with a leading edge in their industries. Backed by a management team with nearly a century of combined leadership experience, WellBiz Brands is the future of customer-centric, membership-based brands. The company has received national recognition on lists such as the Inc. 5000 Fastest Growing Companies, Entrepreneur's Franchise 500 and Franchise Times Fast & Serious, among others. For more information, visit WellBizbrands.com.
Disclaimer: ©2022 DB Franchise, LLC ("DBF").  Each Drybar shop is independently owned and operated. Franchise owners are solely responsible for all employment and personnel decisions and matters regarding their independently owned and operated shops. All individuals hired by franchise owners' shops are their employees, not those of DBF. Benefits vary by independently owned and operated shops. Drybar® + design are registered trademarks owned by Helen of Troy Limited and used by DBF under license. Amazing Lash Studio®, Elements Massage®, Fitness Together®, and Radiant Waxing™ + designs are trademarks owned by their respective companies.