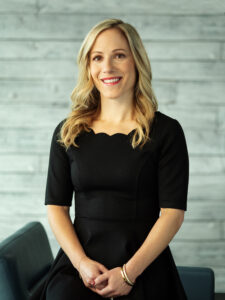 DENVER, Colo. (Dec. 14, 2022) – WellBiz Brands Inc. (WBB), the pre-eminent beauty and wellness franchise platform, announced today Ariel Clay is its new Chief Marketing Officer (CMO). In her new role, Clay will lead WBB's digital, brand marketing, innovation, revenue strategies and service provider recruitment efforts.
"I couldn't be more thrilled to promote Ariel to Chief Marketing Officer. WellBiz Brands strives to create best-in-class beauty experiences for women, and Ariel will help us bring that vision to life for guests and franchise owners. As an expert in female-focused brands, her customer-centric approach and passion for empowering women will help accelerate the growth of the portfolio," said WellBiz Brands Chief Executive Officer Jeremy Morgan. "It's an exciting time for WellBiz Brands. There's so much potential for the brands in our platform as we continue to build strategies that cultivate a true connection with the consumer."
Clay joined WBB as a Director of Marketing in 2017, leading the brand marketing team. When WBB acquiredAmazing Lash Studio (ALS), its first major acquisition, Clay was selected to help integrate the brand and its culture into the portfolio. As the brand architect, Ariel revolutionized the company by creating a cohesive experience across digital and social media, traditional advertising and in-location merchandising. Her vision helped make the brand more inclusive, better representing the diversity of guests and studio teams. More recently, she helped launch the Revenue Strategy team, a group of membership and sales experts who are focused on revenue generators for franchisees. She's also spearheading an innovative new process to help drive membership and gain market share.
"Now more than ever, brands must do more than just market to a consumer. You must also matter to them, which is why I'm honored to be working with these award-winning brands, industry-leading service providers and passionate franchise owners. I'm excited to lead our path forward as we continue to innovate and evolve our approach to delivering memorable experiences," said Clay.
With 900 franchised locations and nearly $500 million in systemwide sales, WellBiz Brands offers to experienced and prospective entrepreneurs opportunities that fit their passions and goals. For more information, please visit WellBizBrands.com.
 About WellBiz Brands Inc.:
 WellBiz Brands Inc. is the pre-eminent beauty and wellness franchise platform catering to the needs of the affluent female consumer. The WellBiz Brands' portfolio features category leaders including Drybar®, Amazing Lash Studio®, Radiant Waxing™, Elements Massage® and Fitness Together®. With an expertise in digital marketing, the company developed a cross-brand digital marketing program that drives effective member acquisition strategies, creating a world-class membership ecosystem. WellBiz One, a proprietary technology platform, enhances studio operations for franchise owners driving member engagement and retention. With in-house expertise in supply chain management, e-commerce and product innovation, WellBiz Brands provides franchisees with a leading edge in their industries. Backed by a management team with nearly a century of combined leadership experience, WellBiz is the future of customer-centric, membership-based brands. The brands in the WBB portfolio have received national recognition on lists such as the Inc. 5000 Fastest Growing Companies, Entrepreneur's Franchise 500 and Franchise Times Fast & Serious, among others. For more information, visit WellBizbrands.com.