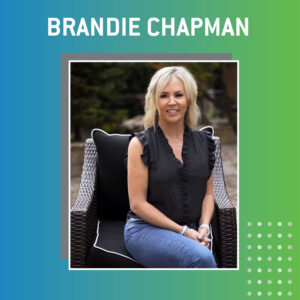 Brandie Chapman already had a degree in marketing, a real estate license and had been a stay-at-home mom for 18 years before her sons left for college. Life as a multi-unit, multi-brand owner of Radiant Waxing® salons, a Drybar® shop and a soon-to-be Amazing Lash Studio® location wasn't in the picture, yet.
With an empty nest, she knew she wasn't ready to enter retirement and wanted something new to do with her life. She started school to be an esthetician, with the thought that she would open her own studio in her hometown of Coeur d'Alene, Idaho, and call it B's Wax, playing off her name.
But that changed over a conversation at a back-to-school lunch with her friends that led to discussing the LunchboxWax® brand, which had coincidentally been headquartered in Boise at the time. Following that conversation, she began doing her research and kept liking what she read about becoming a franchise owner and operator.
Shortly after, when her husband, Mike, was on a golf trip with his friends, she made up her mind and called him.
"I called him up … and I said to him, 'We're going to open up a waxing business," she recalled. "And he was like, 'Come again?' But the best news was that he had four or five beers on the golf course and just said, 'Well, research it and let me know.'"
A few days later, company officials told her they didn't recommend an owner-operator style of ownership at the time. So, she likes to tell people that after just one day of school, Chapman became a beauty school dropout, she says, laughing.
By the summer of 2020, during the early days of the pandemic, they opened their first location.
Despite brief shutdowns, business boomed. Within six months, their location in Coeur d'Alene was already in the black and they were thinking of adding more locations. First came a second location in Spokane, Washington, to the west.
The LunchboxWax franchise system was acquired by WellBiz Brands and rebranded this year, something that Chapman also welcomed.
"We were really excited about it," she says. "It was a bigger scope, more support, bigger umbrella. And then we started looking into the other brands."
Most recently, Chapman opened a Drybar shop in August. Next year, they hope to open their first Amazing Lash studio location as their third brand under the WellBiz Brands portfolio and add another location each year until they reach six.
"It's crazy, right?" she says. "My husband and I had zero franchising experience. We had never done anything like this. We didn't really know what to expect."
The opening of the first location, despite the start of the pandemic, went smoothly. But they knew the area, had friends in the real estate business there and they knew where they wanted to be. After that, they knew what to expect, which led to an easier transition in opening multiple units and multiple brands at a rapid pace.
Chapman finds having a multi-unit, multi-brand approach under the WellBiz Brands umbrella is a huge benefit for both owners and customers.
"It's the same clientele," she says. "We have over 4,000 guests at our Radiant Waxing salon, and those were the first guests we marketed to for our Drybar shop. With the Amazing Lash Studio location, when we do that, it will be the same clientele. From a marketing standpoint, it makes a lot of sense."
Chapman said it was also a welcomed change for her customers.
"We are able to offer members a discounted rate or membership at the other location," she says. "From the guests' perspective, they love that. They can pay one price."
Looking ahead, Chapman expects to open her Amazing Lash Studio location in fall of 2023, to give herself back a summer vacation and needed time with family. After that, her eyes are on planning the future for her next locations. But where those will be located is still in the planning stages.
"Right now, the short answer is, we just don't know," she says.
Disclaimer: ©2022 WellBiz Brands, Inc. ("WBB"). Each franchisee location of a WBB portfolio brand is independently owned and operated. Franchise owners (or their designated hiring managers) are solely responsible for all employment and personnel decisions and matters regarding their independently owned and operated locations, including hiring, direction, training, supervision, discipline, discharge, compensation and termination of employment. WBB is not involved in, and is not responsible for, employment and personnel matters and decisions made by any franchise owner. All individuals hired by franchise owners' studios are their employees, not those of WBB. Benefits vary by independently owned and operated studios. Amazing Lash Studio®, Elements Massage®, Fitness Together®, Radiant Waxing™ + designs are trademarks owned by each of their respected company or their affiliates. Drybar® + design is a registered trademark owned by Helen of Troy Limited and used by DB Franchise, LLC under license.