Denver, CO (Sept. 24, 2021)  – WellBiz Brands, Inc. was recently honored with the 2021 Franchising@WORK Silver award in the 100+ employee category by Franchise Business Review. This award recognizes franchise companies with the highest employee satisfaction based on an independent survey of corporate franchise staff.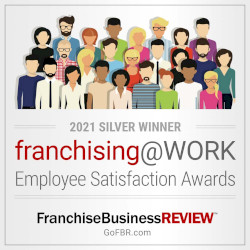 "What an honor it is to be receiving this award from Franchising@WORK. This recognition is really special because it's an endorsement from our Support Center team that we're creating a culture where they feel supported, engaged and respected," stated WellBiz Brands' Chief People Officer Julie Manthey. "I'm passionate about ensuring that as we grow, we don't forget about the importance of our culture. For me, the foundation for our healthy culture is transparent communication. It's truly the key to leading and empowering others."
WellBiz Brands is the nation's premier franchisor of beauty and wellness brands. With over 800 locations, WellBiz Brands is uniquely qualified to serve the growing needs of the beauty and wellness conscious consumer through recurring revenue experience-based brands. With over 100 employees and a growing portfolio of brands, the WellBiz Support Center team is focused on making life better for everyone who interacts with their brands. The team strives to uphold core values such as fun, ownership, respect, passion, and integrity.
Franchising@WORK surveyed over 4,000 employees representing more than 200 franchise brands. Participants were asked 24 core benchmark questions related to job satisfaction, engagement, management, brand leadership, and culture, as well as detailed questions about their position, compensation, benefits, and demographics.
"Brands that were focused on building a strong culture prior to the pandemic have fared far better in maintaining high levels of employee engagement, which translates directly to engaged franchisees and, ultimately, to more loyal, satisfied customers. We are proud to recognize the companies that have dedicated the time and consistency to creating a culture that really moves the needle," said Eric Stites, founder and CEO of Franchise Business Review.
###
About WellBiz Brands, Inc.
WellBiz Brands, Inc. is the manager of five beauty and wellness franchise brands. Headquartered in Englewood, Colorado, WellBiz Brands, has more than 800 combined U.S. locations across their five brands. Through the WellBiz Brands support center staff, the brands strive to uphold these core values: fun, ownership, respect, passion, and integrity. All five brands offer unique franchise opportunities for entrepreneurs from all walks of life and various investment levels, with a fresh focus on recurring revenue models. For more information about WellBiz Brands and franchise opportunities, visit WellBizBrands.com.
About Franchise Business Review
Franchise Business Review (FBR) is a leading independent market research firm that specializes in benchmarking franchisee and employee satisfaction. FBR provides franchise companies with benchmarks and best practices to improve satisfaction, employee engagement and retention. FBR has partnered with over 1,100 top-performing franchise companies to drive franchise growth and achieve greater success through data-driven insights. Learn more about FBR's research at GoFBR.com.
Media Contacts:
Jody Ryan
WellBiz Brands, Inc.
(602) 614-0744