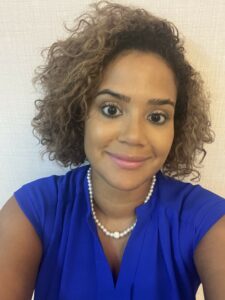 Meet Jasmine Martich, the chemist behind the clean ingredients in Amazing Lash Studio® products.
Martich is the director of product integrity and innovation at WAVE – Wellness and Vitality Exchange, LLC – the product innovation and distribution arm of WellBiz Brands Inc. Located in Phoenix, WAVE is a consumer goods packaging business, distribution center and supply chain lifeline for the WellBiz Brands portfolio, which includes wellness and beauty brands, such as Amazing Lash Studio, Drybar®, Elements Massage®, Fitness Together® and Radiant Waxing™. WAVE stocks everything a franchisee needs to open and operate their location, from furniture and equipment to products used to perform services, to retail inventory.
WAVE also produces mostly proprietary products for franchises in the WellBiz Brands portfolio. That's where Martich comes in. She has more than a decade of experience in product research and innovation for consumer products at Unilever®, PepsiCo®, Zotos International (a subsidiary of Shiseido USA) and most recently, L'Oréal®, where she was a senior chemist working primarily on hair color and texture products. She currently holds five patents, two with Henkel (which owns Shiseido) and three with L'Oréal.
At WAVE, Martich is working on all aspects of product integrity, development and formulation, ensuring that products are all high quality, that they perform as they should and that they are safe.
For the Amazing Lash Studio brand, Martich is currently working on products such as adhesives, eyelash foaming cleansers, mascara, eyelash growth serum, brow pencils and more. She says that the Amazing Lash Studio brand is helping set the industry standard for using clean ingredients.
"The eyelash industry continues to evolve, so there are a lot of unknowns," she says. "We use cleaner ingredients to reduce sensitivities, and the products are all oil-free, which is a mandatory in the lash world."
In the beauty industry, ingredients are described as being "clean" because of how they are manufactured and packaged and because they are better for the environment. Unfortunately, not all ingredients used in the eyelash category are as safe as those that Martich and her team are using. "We create products with the safety of the consumer in mind. That's so important – especially when you're talking about putting something close to the eyes," she says.
Martich also is working on products for the Radiant Waxing brand, which uses only clean ingredients in items like lotions, cleansers and wipes. One challenge for both Amazing Lash Studio and Radiant Waxing products is to avoid potentially harmful preservatives. "Preservative systems are important, and we use those that are safe for sensitive guests," she says.
Another safety consideration that is top-of-mind for Martich is the Prop 65 list, she says. Proposition 65 is a California law passed in 1986 that requires the state to publish a list of chemicals known to cause cancer or birth defects, and California businesses are required to warn consumers about products that could expose them to an unsafe level of ingredients on the list. The list currently contains about 900 chemicals that the state has deemed hazardous.
"We take the health and safety of consumers very seriously," Martich says. "And WAVE will continue to focus on research and innovation important for both franchisees and consumers."